New 100% Live Online Classes added for 2023!
You want to become a birth doula!
You are in the right place.
Now, more than ever, families need your support,
whether they are choosing a hospital birth, home birth or something in between.
As a doula, you will touch so many lives! Mothers will remember you for the rest of their lives. Every single one of you will bring your own unique skills, talents and gifts to this profession. Your journey starts by taking our DONA-Approved Birth Doula Training Workshop. Our virtual and in-person workshops meet DONA International's highest professional standards, which means you'll be learning the skills you really need to provide excellent service to every family you support.
In your birth doula training you can expect to learn not only the "how tos" of being a doula, but also the "why" we doula—and most importantly, why YOU want to be a doula. Workshops cover evidence-based information about the benefits of doula support, the history of birth, the significance of doula support to families, practical hands- on techniques, as well as the steps to begin a career as a birth doula.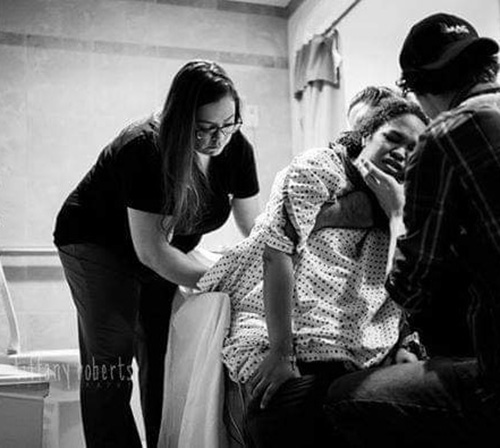 What would it feel like if you:
Could really follow your passion and help others at the same time.
Help families take control of their birth experience.
Feel confident you are giving the right information at the right time.
Know that your Doula certification grants you special rights and privileges.
Could connect and network with other Doulas in your area to learn more and build your career
Be present and welcome into the world new babies everywhere.
It really is possible.

The first step to becoming a certified doula is to take our
DONA-approved Birth Doula training workshop.
How does it work?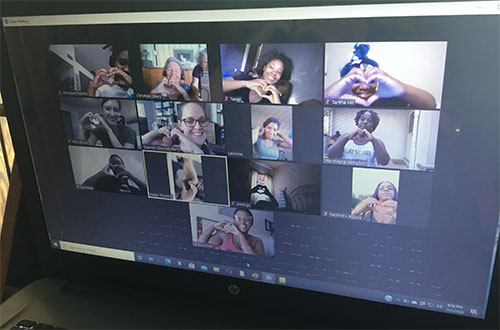 So that aspiring doulas can get training no matter where they live, in the safety of their own homes, we are offering this live class 100% online via Zoom.
All you need is a computer, phone or tablet, and a good internet connection. Each day of the class, you'll just click on the link provided in your confirmation email. This will prompt you to download the free Zoom software (the first time) or launch it if you already have it installed. The class will open and you'll be able to see your instructor and fellow students, and communicate with them via chat and video. We'll have plenty of time for questions and discussion.
In this workshop you will learn the skills necessary to provide professional labor support in a fun and interactive atmosphere. Our workshop will be 36 hours to provide you with the most comprehensive training available. During this workshop, you will meet other aspiring doulas with whom you can build a support network within this field.
Why am I a doula? Why do I train doulas?
I believe every family should be empowered and have support and advocacy before, during and after the birth of a child. Being informed in pregnancy about your options and evidence-based research and realities helps mothers and their partners prepare for a good birth experience.
We need more doulas. We especially need more doulas serving marginalized communities, such as BIPOC and LGBTQ+ families. It is my greatest honor to help you become a doula to serve the families in your community.
About Your Instructor:
Chris Cleary, CD(DONA), BDT(DONA), CCE, CBE
Chris Cleary is a DONA (Doulas of North America), certified doula and has trained with DONA co-founder Penny Simkin and Kathy McGrath to become a doula trainer. She is also a certified childbirth educator through ICEA and certified Breastfeeding educator. She is currently offering four day workshops to train professional labor assistants throughout the country.
Chris' goal as a trainer is to train doulas from all walks of life by helping DONA
realize their vision: "a doula for every woman who wants one."
Your Path to certification
Read The Birth Partner, by Penny Simkin
Attend our DONA approved birth doula workshop
Become a member of DONA International ($100)
Purchase a certification packet from DONA ($40/50) (I suggest not purchasing this until after the workshop)
Complete required reading from list
Provide labor support to several families with evaluations
Home study (watch a business webinar, create a local resource list, write an essay, written references)
Follow instructions in packet for completing the process (You'll get this packet before class)
Visit DONA.org for complete certification information.
Course Information & Schedule
In this workshop you will learn the skills necessary to provide professional labor support in a fun and interactive atmosphere. Our workshop will be 36 hours to provide you with the most comprehensive training available. During this workshop, you will meet other aspiring doulas with whom you can build a support network within this field. Space is limited. Early enrollment is encouraged. We hope you can join us for a wonderful training!
Day One: Introduction to Childbirth for Doulas
8:00am-6:00pm
This childbirth class is designed to take us through pre-labor, labor and birth with the role of a doula in mind. Regardless of your experience with birth, this class ensures that we are all starting with the same information about childbirth to begin your journey as a birth professional.
Topics covered: anatomy and physiology of pregnancy, common discomforts of pregnancy and helpful advice for dealing with them, phases and stages of labor, emotional changes during labor, medications, cesarean birth. All topics covered are in a childbirth class, but the emphasis is on supporting women throughout.
Day Two: Labor Support
8:00am-6:00pm
We will begin with DONA Standards of Care and Code of Ethics. We will cover the dynamics of labor and birth, how to be a skilled companion during childbirth, comfort measures and scenarios to learn the practical and professional approach to dealing with different labors.
Topics covered: Labor support, prenatal contact, emotional support, comfort measures, the business aspects of a doula business and professionalism within a doula practice.
Day Three: A Deeper Look
8:00am-6:00pm
Covers in-depth labor support strategies, the role of the doula within the medical framework, information on pre and post natal clients, dealing with problem labors and unexpected outcomes, setting up a doula practice.
Topics covered: Cesarean birth, VBAC, epidurals, difficult labors, postpartum contact and postpartum contact.
Day Four: Breastfeeding
8:00am-6:00pm
This breastfeeding component embraces evidence based research, medical innovation and ancient female wisdom with a new twist. We will explore how to assist new mothers in establishing comfortable breastfeeding while learning and respecting baby's inborn ability to successfully breastfeed. You will learn a simple and revolutionary way to help mothers who are having difficulty achieving a pain-free latch.
Topics covered: Anatomy and physiology of breastfeeding (how it works), three three's of breastfeeding, feeding costs, positioning, troubleshooting, nutrition and assessing a good latch.
This class will fulfill the DONA requirement for Breastfeeding and will complete all of your in-person classroom requirements towards certification.
Are you ready?
Course investment: $550

What our students are saying
"Chris was a wonderful instructor and very passionate about the Doula profession. I learned many updated facts! She was very clear with directions and teaching."
"Chris, thanks again for everything!! I had a blast & you are an amazing instructor." ~ L. Price
"When the team had questions, she broke it down even more! She even paid attention to our facial expressions to make sure."
"Chris Cleary readily answered questions, went back to explain parts, spent extra time as needed at the end of the workshop and has checked in with the group since training ended."
"Chris was incredibly helpful and was more than willing to answer questions and explain in more depth when requested."
"Thank you very much for the classes, I'm looking forward for next week's. I'm very grateful for the work you're doing while we are all in the middle of this pandemic and how you're so very detailed with the information and stories." ~N. Sanchez
Have Questions?
Here are few frequently asked questions. But if you have questions not answered here, please email me!
Q: I can attend most of the class, but I have a commitment one afternoon. Can I make up that material?
A: It's important that you be attending class at all times to get all the material; we do not waste any time. It won't be possible for you to make up the material you missed, but we might be able to arrange for you to come to that section of a later class meeting. Email chris@birthmattersok.com to discuss your specific situation.
Q: Will I be certified as a doula after I complete this class?
A: You will have completed the first 3 steps toward certification. You will receive three certificates at the completion of the workshop by email. There are steps listed on our site.
Q: Can I take the class from my smartphone?
A: Yes, Zoom works great on smartphones. However, it might be hard to see and understand some of the content as well on a small screen like a phone. If you have a tablet or computer, it would probably be better, but a phone works well too!
Q: What should I do before the training?
A: Start reading The Birth Partner by Penny Simkin, download our training manual (you'll get it via email) and attend our meet and greet.
Q: Where will I work?
A: Some doulas start their own business immediately following our training. Some work with primarily hospital births and others choose to focus on homebirths. Some start to work in hospitals that offer Doula programs immediately following the training and others work with a community doula group.
Q: How long does it usually take to become certified?
A: This workshop is actually good for four years towards DONA certification. Once you purchase a certification packet from DONA, however, it is only good for two years. I have had some doulas complete all the steps in four months and others to need extensions. That is one of the beautiful things about Doula work; our lives sometimes dictate how quickly we can finish all the steps.
Q: Why should I choose DONA to certify with?
A: DONA is the gold standard in Doula preparation and education. They are the oldest and most well respected organization out there. That is why I chose to be a DONA-certified Doula and Doula Trainer.
Q: How long are the hours during the training workshops?
A: Our hours are from 8 AM to 6 PM Pacific standard time.
Q: What happens if the class is canceled? Or if I cancel my attendance?
A: Refund Policy: Refunds are only given as a result of a workshop being cancelled. If you must cancel, your tuition will be put towards a future training date. Cancellation Policy: Please note that workshops may be cancelled due to low enrollment. If a training is cancelled, you will receive a full refund or be given the opportunity to put your tuition towards a future training. If a workshop must be cancelled, you will be notified no less than 7 days prior to the training. Please enroll early as class size is limited.
Q: Can I charge for the births I attend immediately after the training?
A: Absolutely.
Q: Why do you offer BIPOC and military discounts?
A: This is because BIPOC Are dying 3 to 4 times more during birth in the United States than Caucasians. We offer a military discount because Doulas work is so important in the military communities, as families are often separated during pregnancy, birth and an early parenthood. It is our way of giving back.
Special promotional offer
***LIMITED DISCOUNTS AVAILABLE***
We want to encourage BIPOC and members of the military (active or dependent) who are interested in becoming doulas by offering several $50 and $100 scholarships to our online DONA-Approved Birth Doula Training! If you fall under either (or both!) of those categories, please email chris@birthmattersok.com to get the discount code to use when checking out.
When the codes are gone, they're gone–so act fast!