Chris Cleary is a DONA (Doulas of North America), certified doula and has trained with DONA co-founder Penny Simkin and Kathy McGrath to become a doula trainer. She is also a certified childbirth educator through ICEA and certified Breastfeeding educator. She is currently offering three day workshops to train professional labor assistants throughout the country. Chris' goal as a trainer is to train doulas from all walks of life by helping DONA realize their vision "a doula for every woman that wants one."
If you are interested in hosting a doula training in your community, contact us for more details.
REGISTER NOW
Course Information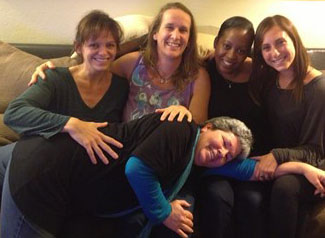 In this workshop you will learn the skills necessary to provide professional labor support in a fun and interactive atmosphere. Our workshop will be 36 hours to provide you with the most comprehensive training available. During this workshop, you will meet other aspiring doulas with whom you can build a support network within this field. Space is limited. Early enrollment is encouraged. We hope you can join us for a wonderful training!
Day One: Introduction to Childbirth for Doulas
8:00am-6:00pm
This childbirth class is designed to take us through pre-labor, labor and birth with the role of a doula in mind. Regardless of your experience with birth, this class ensures that we are all starting with the same information about childbirth to begin your journey as a birth professional.
Topics covered: anatomy and physiology of pregnancy, common discomforts of pregnancy and helpful advice for dealing with them, phases and stages of labor, emotional changes during labor, medications, cesarean birth. All topics covered are in a childbirth class, but the emphasis is on supporting women throughout.
Day Two: Labor Support
8:00am-6:00pm
We will begin with DONA Standards of Care and Code of Ethics. We will cover the dynamics of labor and birth, how to be a skilled companion during childbirth, comfort measures and scenarios to learn the practical and professional approach to dealing with different labors.
Topics covered: Labor support, prenatal contact, emotional support, comfort measures, the business aspects of a doula business and professionalism within a doula practice.
Day Three: A Deeper Look
8:00am-6:00pm
Covers in-depth labor support strategies, the role of the doula within the medical framework, information on pre and post natal clients, dealing with problem labors and unexpected outcomes, setting up a doula practice.
Topics covered: Cesarean birth, VBAC, epidurals, difficult labors, postpartum contact and postpartum contact.
Day Four: Breastfeeding
8:00am-6:00pm
This breastfeeding component embraces evidence based research, medical innovation and ancient female wisdom with a new twist. We will explore how to assist new mothers in establishing comfortable breastfeeding while learning and respecting baby's inborn ability to successfully breastfeed. You will learn a simple and revolutionary way to help mothers who are having difficulty achieving a pain-free latch.
Topics covered: Anatomy and physiology of breastfeeding (how it works), three three's of breastfeeding, feeding costs, positioning, troubleshooting, nutrition and assessing a good latch.
This class will fulfill the DONA requirement for Breastfeeding and will complete all of your in-person classroom requirements towards certification.
Path to Certification
* Read The Birth Partner, by Penny Simkin
* Attend our DONA approved birth doula workshop
* Become a member of DONA International ($100)
* Purchase a certification packet from DONA ($40/50) (I suggest not purchasing this until after the workshop)
* Complete required reading from list
* Provide labor support to several families with evaluations
* Home study (watch a business webinar, create a local resource list, write an essay, written references)
* Follow instructions in packet for completing the process
Visit DONA.org for complete certification information.

Cost and Details
Trainings will have different cost based on market value in that particular area. The cost of the workshop includes your DONA training manual and all other necessary items for your training as well as the childbirth education component. Costs are listed below with each location. In some of our locations we are able to prepare food on the premises.  If this is available at the location you are interested in attending, drinks, snacks and one meal are offered at $10.00 a day. You will receive a more in-depth description with your confirmation letter.
Payment Options
Credit Card or Money Order/Check
A down payment will hold your place but the balance of tuition must be paid prior to or on the first day of the workshop.
REGISTER NOW
Refund Policy
Refunds are only given as a result of a workshop being cancelled. If you must cancel, your tuition will be put towards a future training date. The exact location is often determined by the number of students attending. Contact us as the date of your training draws near so that you can make necessary arrangements.
Cancellation Policy
Please note that workshops may be cancelled due to low enrollment. If a training is cancelled, you will receive a full refund or be given the opportunity to put your tuition towards a future training near you. If a workshop must be cancelled, you will be notified no less than 7 days prior to the training. Please enroll early as class size is limited.
Confirmation Letter
Upon receiving your payment, you will receive a confirmation letter by email (be sure to provide a current email address during your registration).
REGISTER NOW